Eat the Document is an alternative opera based on the novel by Dana Spiotta. Shifting between the protests in the 1970s and the consequences of those choices in the 1990s, the piece by John Glover and Kelley Rourke explores connections between the two eras – their language, technology, music, and activism.

libretto by
Kelley Rourke
music by
John Glover
direction by
Kristin Marting
based on the novel by Dana Spiotta
eat the
document
The score includes a number of original "pop songs" that suggest the eras of the piece and explore key themes (tactics, consequences, identity, isolation, memory). One of these, the protest anthem "No More," bookends the opera.
The characters' own stories unfold in a series of arias and ensembles. In "Leave the Memory Behind," a young woman – a fugitive – is raped. Rather than allow the assault to destroy her, she claims the power to rewrite her story yet again. In "Unyielding," an aging radical reflects on his life. "I met Dennis Wilson Once" offers a scene between a suburban mom and her teenage son, an exchange that drives him to pursue the mystery of her past.
In development at AOP

Kelley Rourke, words
John Glover, music
©2021
A butterfly beats her wings
A storm gathers on a far-off shore
A mild-mannered man in a white lab coat
Manipulates a spore
They say we've never been so productive
They say weapons can deter a war
They say prosperity trickles down
But a lone voice cries, no more.
And the voice becomes a chorus
And the song becomes a roar
No more. No more. No more.
When money's a form of speech
It's easy to silence the poor
It's easy to let it all slip past
Till a lone voice cries, no more
And the voice becomes a chorus
And the song becomes a roar
No more. No more. No more.
BOBBY
You are no longer Mary from the suburbs.
You are Freya from the edge.

MARY
Will you call me Mary, at least, when we are home in bed?

BOBBY
Only Freya. And you have to call me Marco. Never Bobby.
If you want to change your life, first you change your name.

MARY
A nom de guerre? Isn't that sort of ridiculous?

BOBBY
All cultures have naming ceremonies.
It's how you become an adult.
You choose, you decide who you are.

MARY
But I didn't choose that name. You did.

Acres of orchards are barren
Bodies are covered with sores
And nobody can remember
A time we weren't at war

HENRY
The canisters ride four across
I can see through the hatch in the bottom of the plane
the spray of white aerosol trailing behind.
We are buzzing rice paddies and villages.
We are aiming for total saturation.

No more….
Leave the Memory Behind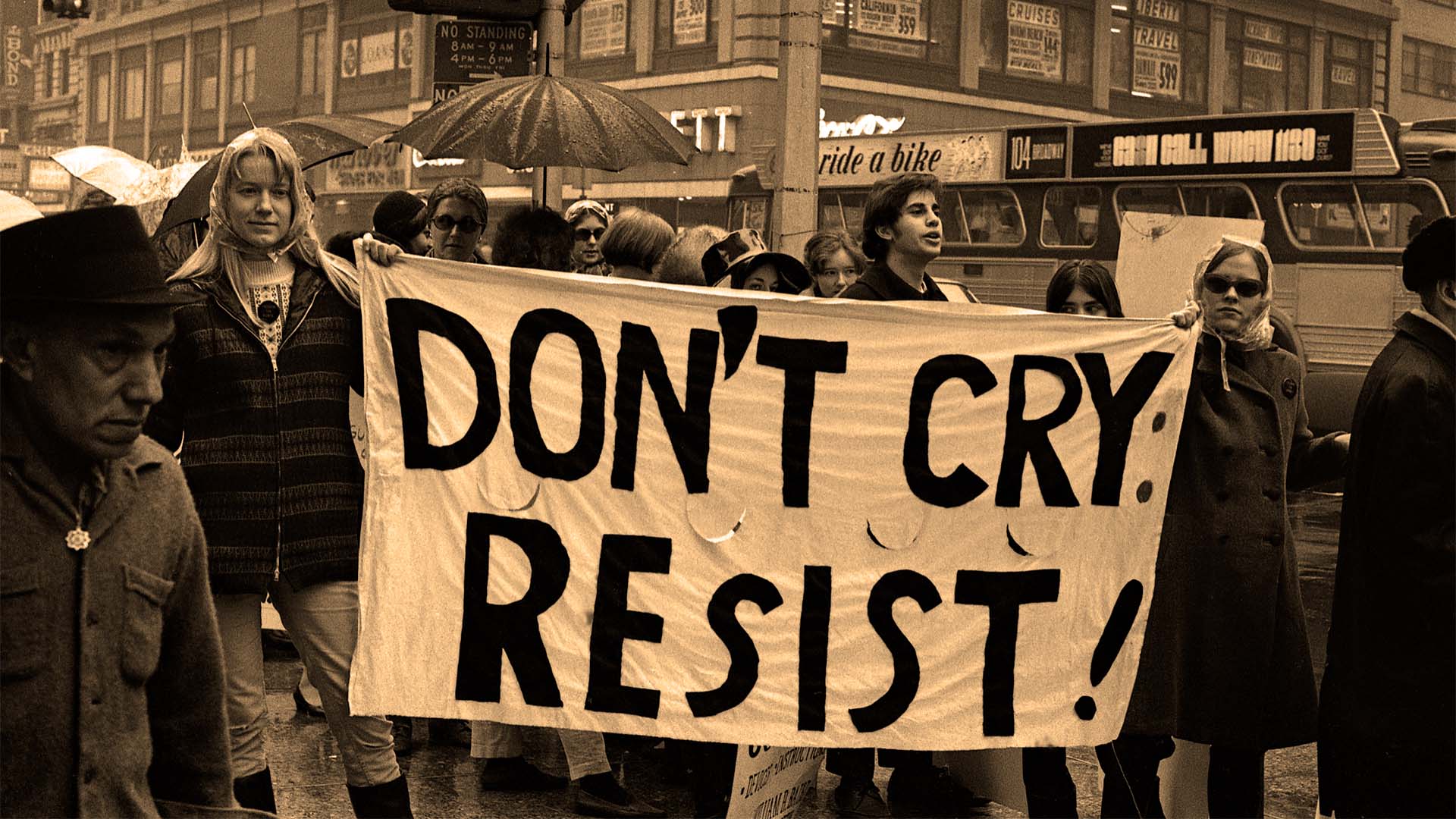 photo of "1968 Abortion Rights demonstration, NYC" by Bev Grant
Kelley Rourke, words
John Glover, music
©2021

Feel his weight, taste the blood as his fist connects with my chin
Feel his hate – cold and impersonal – I'm nothing to him.
Then let me be nothing, let this moment be nothing, I can will it from my mind
Leave it here by the road. Leave the memory behind.
Start again, write a new story, choose a name and construct a past.
Shed my skin, glide into the next life, however long it lasts
Another small town, another small room, another job in a kitchen somewhere
Let the past fall away and it's like I was never there.
Let the past fall away, leave the memory behind.
No one blinks, nobody questions who I am or where I've been.
Let them think whatever they think, just accept it and settle in
Every yes holds a no, every choice a rejection, another future never to be
And whatever it is – will be –
Unyielding
Kelley Rourke, words
John Glover, music
©2021
I have a no-frills existence,
a modest life.
I never eat out.
I buy thrift store clothes.
No real estate.
No health insurance.
No bank account.
I use money orders and cash.
What's left I stash.

I wouldn't mind being one of those guys
who spend twenty years
building some massive landwork in the desert,
a sculptural dream of the future and God.
One of those guys destined to die in a tractor,
moving the never-ending piles of earth,
unfinished but still—
One of those guys, until his last breath,
implacable, relentless, and alone.
Alone, except perhaps for the young acolyte wife, desert tan,
a woman with braids and devotion,
her never-ceasing and only ambition being to help you—
a man thirty years her senior—
realize your dream,
your lifelong project, monument, statement,
your unyielding testament to—
Unyielding.

I'm no priest.
I just slightly exist.
Lots of people in the world live like that.
They're just more ashamed and less deliberate about it.
I met Dennis Wilson once
Kelley Rourke, words
John Glover, music
©2021
I said I met Dennis Wilson once.
It was 1979, I think. In a bar. In Venice Beach.

This good-looking man walks in
linen shirt, unbuttoned –
He's very tan, and very trim,
and there is something so familiar about him.

There's a bloat around his eyes,
scraggly beard, uncombed hair –
His feet are bare, wide and dirty
and there is something so familiar about him,
so familiar, and so handsome.

He sees me looking,
comes over, sits down.
He says "I'm Dennis"
asks if I want a drink
I'm not hiding very well my thrill.
He asks if I want to dance.

It was somehow a sweet moment
the afternoon light –
the innocent song –
this sad guy swaying with me.

The world was going from bad to worse.
I had been in LA way too long.
Ronald Reagan had just become president.
But America was still a place
where you could dance with a barefoot rock star
in a nowhere bar
in the middle of a weekday afternoon.
---
All tracks recorded at Merkin Concert Hall (Kaufman Music Center) on May 12, 2021 by the following artists. Photo of "G.I.'s Against the War" by
Bev Grant
.
CAST
Justine Aronson as Mary/Caroline
Amy Justman as Louise
Paul Pinto as Nash
Tim Russell as Bobby/Jason
Jonathan Woody as Henry
BAND
Mila Henry, music director and piano
Abi Fayette, violin I
Rachel Shapiro, violin II
Jessica Meyer, viola
Andrew Yee, cello
Shayna Dunkelman, drums
Liz Faure, guitar
SOUND
Mike Gurfield, producer
Merkin Concert Hall at Kaufman Music Center:
Ken Feldman, engineer
Thank you to the following funding organizations and individual donors for their generous support of Eat the Document:
The Amphion Foundation
James and Nancy Barton
The Aaron Copland Fund for Music
The Howard Gilman Foundation
Charles Jarden
Norman Ryan
Eat the Document
is made possible by the New York State Council on the Arts with the support of the Office of the Governor and the New York State Legislature.